StayToday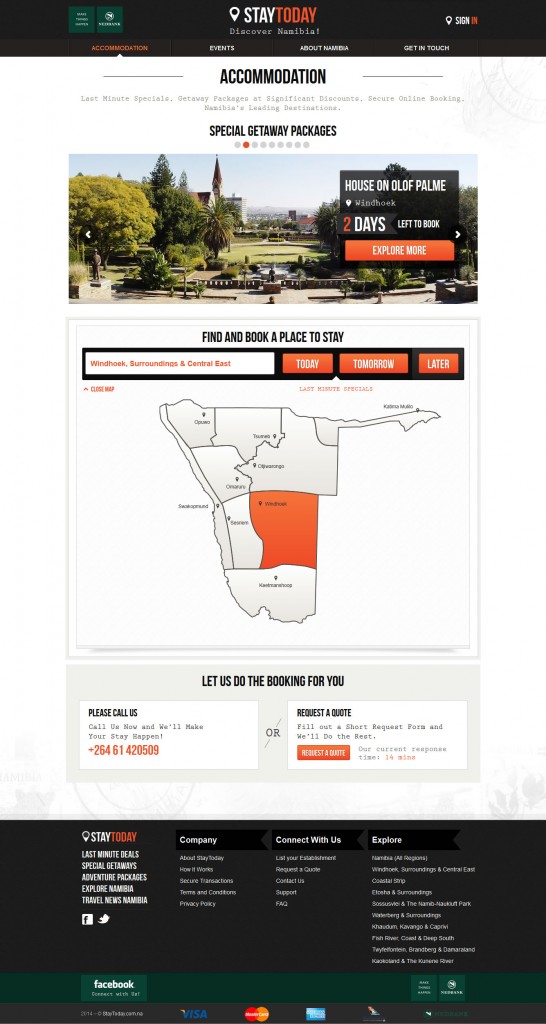 We first got involved with the StayToday project when we were tasked with building out the initial HTML templates while another development house were building the site. However, in the last 2 years we have refactored, improved, extended, and maintained this website in-house.
StayToday's niche market is last-minute accommodation across Namibia, as well as featured accommodation and travel packages at discounted group rates. They have recently added event ticket sales as well.
Their site is managed using a bespoke CakePHP content management system that enables them to edit any area of the website with ease, as well as giving them the ability to draw reports on sales, customers, forecasts, etc.
We built out the event functionality, which include the ability to purchase individual tickets when buying in bulk, and event check-in via a responsive web app.
One particular area of pride for us, is the homepage map which is coded using SVG and is fully interactive.
Client: StayToday
Project Date: February 2012 - current